David Bokermann, PT, DPT, C-PS

Fitness challenges have been around for countless years, but have been gaining popularity in the age of social media with a large part of the population sharing their stories and results of such challenges. As the team at RecoverRx is committed to personal health and wellness, Dr. Luke, Dr. Sarah and myself, Dr. David, have decided to give this latest fitness challenge a shot. 
The 75 Hard challenge is a self improvement plan created by Andy Frisella, the CEO of 1st Phorm supplements. The challenge lasts 75 days and consists of completion of 5 daily tasks.
Follow any nutrition plan designed for your goals, with zero alcohol and no cheat meals.
Complete two 45-minute workouts every day, one of which must be outside.
Drink a gallon of water every day.
Read 10 pages of an educational or self-improvement book every day.
Take a progress picture every day.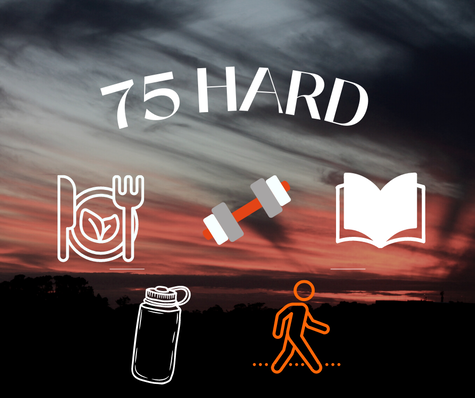 As part of this blog, I will interview both Dr. Luke and Dr. Sarah about their individual journeys to check in with their progress, discuss any wins, and analyze any pitfalls. But first, I will begin with my take away being 2 weeks into the challenge. 
First, for the nutrition component- I elected to focus on my personal habits and not follow a restrictive diet. The nutrition plan I am following is having to have a fruit or vegetable at every meal. May not seem like much, but with 3 kids at home and different early and late shifts at work, it has been easy in the past to grab something convenient versus healthy. In addition, in order to address my specific habits, I have also challenged myself to not eat any potato chips during the challenge, which is my guilty pleasure. Not going to lie, that has been harder than the water. 

For the fitness component, completing both workouts is definitely a challenge. I am very lucky in that I literally work in a gym, so I can rather easily get in at least 1 workout at work over lunch. To get the 2nd one in, I got back to my Peloton routine early in the morning or after the kids' bedtime. To accommodate for my family's needs, we do go on a 15-30 minute walk on most nights I am home which I am counting towards my outside time and part of my 45 minute workout. To also get in the outside component, I have made it a point to get out of the office and walk for short periods to help bridge the gap if I haven't hit my 2 45 minute workouts. The fresh air has been great.

As a PT, I am acutely aware of the consequences of muscle soreness and the need for recovery. It is never fun to be limping around for a couple days or have trouble bending forward because your body is so tight from overworking, so I have been adding in sessions of yoga and whole body recovery sessions.  

The gallon of water was a little tough for the first 5-6 days, but now I have hit my stride and have been finishing the requirement before 8 o'clock. The goal being don't wait until the end of the day so you are not getting up in the middle of the night to use the bathroom. My advice though is to get the largest bottle you can get and carry it around with you wherever you go. I purchased a 64 ounce bottle from Aldi that hasn't really left my side. 
​
Reading at night has been an inconsistent activity over the past couple of years that is really enjoyable but sometimes hard to get in daily. I enjoy the night-time task and look forward to gaining some knowledge on topics that interest me. I am currently reading "The Subtle Art of not giving a F*!$," which has had some interesting thought provoking ideas. 
On the daily picture taking, I elected to do a weekly picture and weekly weigh-in instead of the daily picture of progress. I don't feel like I am missing out or changing the parameters but wanted to do what makes the most sense for me.

If you are interested in doing the 75 hard challenge yourself, leave a comment or ask a question below. Keep an eye out for the follow up interviews with Dr. Luke and Dr. Sarah in the next couple of weeks.