Physical Therapy in Oak Brook
Welcome To RecoverRx Performance Physical Therapy
#1 Sports Physical Therapy Clinic In Oak Brook, IL
We help Athletes and Active Adults
Recover from Pain and Injury, Rebuild functional movement patterns, and Redefine their future performance,

allowing for a return to the sports and activities they love
We are located inside the Midwest Office Center Building in the back corner unit. If you are coming from the east on 22nd street, turn right at the Lou Malnati's and proceed to the back of the parking lot. We are in the corner unit of the single story brick office building. If you are coming from the west, you will enter off of Butterfield road by taking a right in to the Midwest Office Center building parking lot. Proceed to the back of the building to the corner unit.
There are 2 designated parking spots for RecoverRx patients
Wondering If RecoverRx Is Right For You?
Oak Brook Physical Therapy
If you're not quite ready to book an appointment yet, you might have some questions that you would like answered first. We would be happy to chat with you so we can be 100% sure that we can help you. Just click the button below to request to speak to us on the phone!!
We understand that some people want to find out a little more about the availability and pricing of physical therapy before booking an appointment. If you want to know about our availability, then just click the button below and complete the simple form.
We realize some people may be unsure if physical therapy is right for them. Are you wondering if it'll work or if we can help with your problem? If that sounds like you and you'd like to come see for yourself how we can help you, just fill out the simple form below.
At RecoverRx Performance Physical Therapy You'll Always Receive:
-1-on-1 care with a Doctor of Physical Therapy
-An Individualized Treatment Plan to Decrease Pain and Restore Function
-Flexible Hours and Consistent Care with the Same Therapist for Superior Service with Faster Results
-Frequency, Goals, & Treatments based on what is best for YOU, not what your insurance dictates
Use Every Setback, As a Comeback!
Our Effective 3 Step Process To Eliminate Your Pain & Achieve Your Goals
Determine the Real Cause of your Aches & Pains.
We'll take you through a comprehensive assessment, finding your limitations as they pertain to your goals. This will allow us to identify underlying issues and come up with a treatment plan to get you back to full speed and strength. (No doctor's order necessary).
Develop A Solution to Your Problem.
We offer an individualized treatment program tailored to your specific athletic demands. Our quality 1-on-1 care and attention will allow you to return to the activities and sports you love, all while avoiding unnecessary medicine, imaging, and surgery.​
Achieve & Maintain Optimal Performance!
With our comprehensive, professional follow-up visits and membership plans, you'll be able to maintain optimal performance levels in all your activities while preventing additional injury down the road.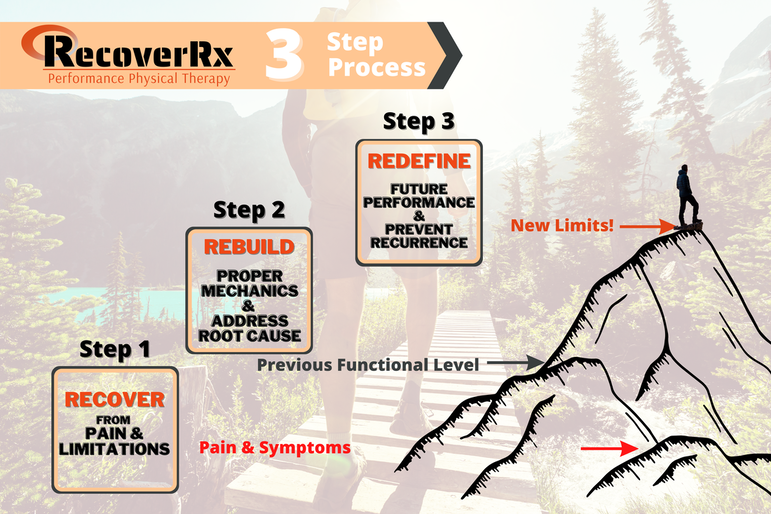 What Other People Just Like You Are Saying About RecoverRx in Oakbrook Terrace, IL
"Dr Ariel is fabulous to work with! I saw her postpartum for 2 pregnancies, she listened to all my concerns and was able to provide so many resources to get my pelvic health back in tip top shape. She tailored specific workouts and regiments for my skill level, challenged me, provided endless amounts of information and education and tools to help me at home. She took her time didn't rush the appointments, was prompt with scheduling and returning calls/emails. Dr Ariel has a wonderful demeanor, professional, caring, knowledgeable and a wonderful personality. Wish I would have seen her prior to pregnancy! I highly recommend seeing her for her services and I tell all my friends to go see her!"
"Luke did a fabulous job helping me rehab my rotator shoulder injury! He was so flexible on schedule with my work and travel and really exceeding all my expectations on the PT I got. I have had other issues like a knee repair procedure and had to live with middle of the day scheduling and standard canned approaches. Luke took the time with he and gave me the customized exercises I needed, worked with me on my lifting form to avoid future injuries, and did a variety of dry needle and other manipulation therapies that were very effective. I am back lifting and am really pleased with my progress! My knee had a short-term aggravation that he solved too during my other PT work which avoided more appointments and time challenges. I whole heartedly recommend Luke and his clinic for PT! Thank you so much, Luke! Great Work!"
"Dr. David Bokermann was amazing to work with. I was referred to RecoverRX by a close friend because I was having a lot of shoulder pain. At one point I was having trouble just being able to put on deodorant because the pain was so bad. I though for sure that I was going to need to have surgery. I just figured I was getting old and all of the abuse that I put my arm through in my youth was catching up to me. Dr. David explained that I wasn't going to need surgery and that what I had was a muscle imbalance. I signed up for 10 sessions with him and I am happy to say that I am pain free again. I would highly recommend them to anyone."
Oakbrook Terrace Best of 2022 Physical Therapy Clinic
We are Honored to Announce that RecoverRx Physical Therapy was Awarded the Oakbrook Terrace 2022 Best Physical Therapy Clinic!
"Each year, the Oakbrook Terrace Award Program identifies companies that we believe enhance the positive image of small business through service to their customers and our community. These exceptional companies help make the Oakbrook Terrace area a great place to live, work and play.
Various sources of information were gathered and analyzed to choose the winners in each category. The 2022 Oakbrook Terrace Award Program focuses on quality, not quantity. Recognition is given to those companies that have shown the ability to use their best practices and implemented programs to generate competitive advantages and long-term value."
SOURCE: Oakbrook Terrace – Award Program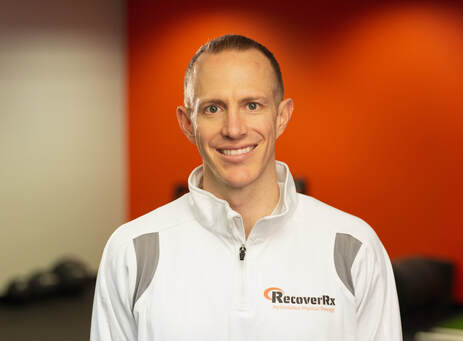 Get To Know Dr. Luke Greenwell
PT, DPT, CSMT, CSCS, Owner and Founder of RecoverRx
Dr. Luke Greenwell specializes in treating the injured athlete. In addition to his Doctorate of Physical Therapy, he is a Certified Spinal Manual Therapist trained in extensive manual & manipulative techniques. He is also a Certified Strength & Conditioning Specialist and is passionate about returning people to the sport or activity they love. He is experienced in a multitude of interventions including but not limited to: instrument assisted soft tissue mobilization, pain neuroscience education, vestibular/concussion interventions, therapeutic exercise, dry needling, and the use of slow motion video analysis for runners and overhead athletes. As an avid athlete himself, he knows the importance of getting better sooner and performing your best.
​
Some of his personal fitness accomplishments include playing D1 collegiate soccer, completing a half Ironman, and placing in two 8+ hour Adventure Races. He looks forward to passing on his competitive edge to his young daughter and son, and has found his greatest teammate in life, his wife, a fellow physical therapist.
Want To Get Relief Faster?
Choose which option works best for you