By: Dr. David Bokermann
Happy 2022 All!
 
I love the feeling of a new year; it gives us all something to look forward to by way of celebration, reflection of the past and hope for the future. It gives us a chance to pause and reflect on things accomplished and areas we would like to see improved. This is the time of year for New Year's resolutions.
I have tried, like many others, to make personal new year's resolutions, but they never seem to stick. Last year my resolution was to keep it simple- everyday do 50 push ups and a 50 second plank. I thought the simple nature would help me achieve it but my desire waned after 3 weeks and I just didn't do it one day, thinking I would catch up the next day. 2-3 days went by and then a week and poof my resolution was busted. I would occasionally think about picking it back up but never was fully committed so it never came to fruition. That is what my blog is focused on this month. How can we capture this new year energy and create healthy sustainable habits for a lifetime not a week or a month.
In April 2021, one of my patients told me I had to listen to this podcast because it was right up my alley- simple and effective health advice. My patient was right, I loved the podcast and bought the book. It is called 
Feel Better in 5, 
Your Daily Plan to Feel Great for Life
 by Dr. Rangan Chatterjee. He laid out why new years resolutions typically fail within the first weeks even with the best intentions. 
The concept for healthy sustainable habits was 3 fold:
1. Focus on the journey not the destination
2. Good health works the same as bad health 
3. Perform short 5 minute health snacks every day for: Your Body, Your Mind and Your Heart
The Journey

Change your life by changing the journey concept rang very true for me as a healthcare provider and a human always interested in self-improvement. The journey versus destination concept is relatable to my last blog on headaches. Take for example, you are suffering from headaches for several years, so you seek care from a physician. The doctor hears your symptoms, who listens to your story and provides you with medication for your pain. As we know there are many influences to your headache which need to be addressed specifically. The medication fixes the destination of a headache symptom but may not address the lengthy journey of other factors of poor sleep, diet, stress, financial worry, anxiety or depression.   The short quick 5-minute habit changes of a daily routine may impact the journey better to fully resolve your headaches by addressing the causes of the headaches.


Good Health Vs Bad Health

In understanding habit change, it is imperative to realize that small everyday activities influence our overall health. Thinking of doing 15 minutes of good healthy habits may seem daunting but imagine the opposite effect of engaging in 15 minutes of bad health habits. What if you were asked to eat chocolate cream filled donuts for 5 minutes straight non-stop, then 5 minutes straight of smoking as many cigarettes as you can followed by 5 minutes straight of chugging a 2 liter of soda pop. Imagine how you would feel after doing that every day. How sluggish, weak and irritated would you be after 1 week, after 1 month after 2-3 years. Good health works the same as bad health- 5 minutes of a stretching routine, 5 minutes of meditation and 5 minutes re-connecting with an old friend. Positive influence over time can lead to the development of sustainable habits that are geared for long terms effects.
5 minute health snacks: 15 minutes to change your life

Think back to my New Years Resolution of 50 push ups every day. Why did it not work out? I set it out to be simple in hopes of keeping it going for long term success but 3 weeks in and I had stopped. After reading this book, I was able to see that I was missing 2/3s of my health influences- my mind and my heart. Maybe I didn't do my push ups because I wasn't managing my stress appropriately or I was anxious over life decisions or was worried about raising our kids during a pandemic. I only had a plan to get my body into shape but I now realize my mind and heart have a significant influence over my habits and my health. Planning for 2022, utilizing these 3 concepts from the feel better in 5 book, I have a new approach that encompasses all aspects of my health- mind, body and heart. I plan on working on the ABCs of life, every day.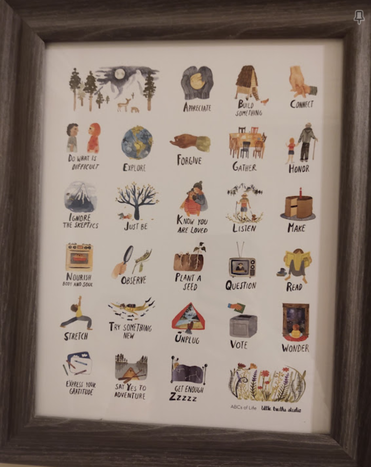 This picture was a gift from my mother, hanging outside our children's play room. It caught my eye over winter break, thinking to myself, How great would it be to apply these simple concepts to my life? Looking through different letters, themes of mind, body and heart are seen throughout the picture. Simple concepts to work on everyday that don't take much time. I feel like I am now focused on the journey to a happier life, I am providing a framework of simple good health influences and I am impacting 3 main influences of my heath- mind, body and heart.
If you are interested in delving deeper into sustainable health habits, please check out Dr. Chatterjee's book or the Iron Strong Podcast for tips and advice on creating long lasting health.
Here's to a Healthy 2022!