Performance Physical Therapy
If You Keep Working Out or Playing Through The Pain, Will It Cost You?
With our unique clinic design and partnership with Iron Flag Fitness, we have access to state of the art industrial designed gym spaces with top of the line CrossFit and athletic performance equipment in addition to private treatment rooms at each location. This set-up is unlike any traditional physical therapy clinic in the area, and will allow for optimal movement and strength rehabilitation meeting your specific athletic goals
Our physical therapy treatments are always 1-on-1 and specific for what YOU need.
We start with a detailed evaluation to determine your specific impairments, limitations, and goals. Then provide skilled manual therapy techniques, therapeutic exercise, and functional retraining to restore you to optimal function. We also focus on educating you in ways to maintain and further improve your strength and mobility outside of therapy sessions.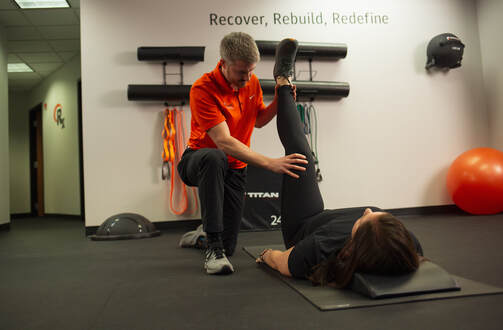 YOUR EXPERIENCE IS OUR GUARANTEE
At RecoverRx Performance Physical Therapy You'll Always Receive:
1-on-1 care with a Doctor of Physical Therapy
An Individualized Treatment Plan to Decrease Pain and Restore Function
Flexible Hours and Consistent Care with the Same Therapist for Superior Service with Faster Results
Frequency, Goals, & Treatments based on what is best for YOU, not what your insurance dictates
What Makes RecoverRx Different
One on One For A Full Hour With Your Doctor of Physical Therapy, Every Visit
To ensure that you are getting the highest quality of care. Every session will be one on one with a doctor of PT. No aids, no techs. Just individualized care for you with your doctor
We are 100% committed to your recovery. Throughout your rehab process your therapist will always be accessible for any questions you may have
You're More Than A Diagnosis
At Clinical Marketer PT we take a look at the whole body. We are aware that the location of your pain is not always the cause. Not only do we improve your pain and reduce your symptoms, but we address the root cause of the issue and work to make your body more resilient in order to prevent further injuries.
You'll Never Get a Bill From Us Months Later After Your Visit
Unlike many physical therapy clinics- you won't get any bills months following finishing PT. With Clinical Marketer PT you will never be surprised by a bill you were not anticipating.
We Understand the Demands of Your Life and/or Sport
We walk the talk! As physical therapists who exercise and participate in a large variety of activities/sports ourselves we understand what it takes. While many physicians and physical therapists will simply tell you to stop your desired activity we understand that avoiding the things that you enjoy most because of an injury is no way to live. Because of our background we know the importance of keeping you in the activities you love and we find ways to modify your training so you can stay in your sport throughout the rehab process.
​"The Worst Action is Inaction"
Click on the button below to set up a FREE 20 MINUTE DISCOVERY VISIT to see what we can do for you to get you back to doing the things you love.​