Have your (or your athlete's) concussion symptoms lasted longer than 2 weeks? Is dizziness, nausea, blurred vision, or impaired balance making it hard to focus, read, use a phone or computer, walk, work out, perform your normal school/work activities, or participate in the game?
Through research, we have been able to identify 6 profiles for sport related concussions. All patients fall into 1 primary profile, but most of the time there is overlap between 2-3. The 6 profiles are cervical (neck), cognitive/fatigue, visual, vestibular, migraine and anxiety/mood. By identifying the proper profile, our therapists at RecoverRx Performance Physical Therapy can provide targeted and effective interventions.
The profile is developed by listening to a patient's story, getting an in-depth history, understanding both immediate symptoms after the concussion and the current issues they are experiencing. Apart from understanding the symptoms, a hands-on examination is also needed. In our practice, we always assess the balance system, the coordination of the eyes, and perform an orthopedic examination of the cervical spine in terms of motion, pain and control.
Once the profile is identified, active rehabilitation can begin. We know through years of research that simply resting and avoiding activity does more harm than good. We no longer treat concussions passively with rest, avoiding light and stimulus and waiting for the brain to heal. Now we treat concussions actively!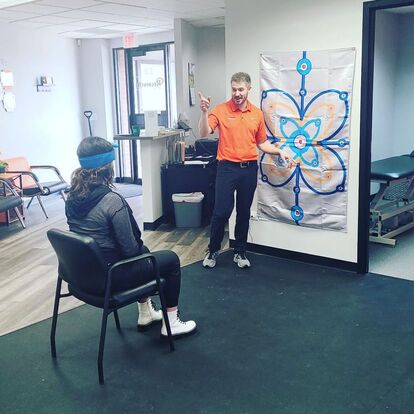 Common Symptoms We Treat:
Physical: Headache (tension, migraine, light sensitivity); Oculomotor (visual deficits); Vestibular (BPPV, dizziness); Fatigue (physical/drowsiness, cognitive); Sleep (initiation, maintenance)
Cognitive (attention deficits/difficulty concentrating, memory deficits, executive function deficits/fogginess)
Psychological (decreased frustration tolerance/irritability, depression, anxiety)
Concussion Rehabilitation Steps
Identify the patient's primary concussion profile and deficits
Treat the deficits with targeted exercises for that profile (mobilization techniques for the neck, balance exercises, vestibulo occular retraining, aerobic exertion program). Along with education and strategies to improve sleep, stress, hydration, and nutrition.
Step wise progression back to exercise and sport based on symptoms
Learn more from Dr. David's blog on the 3-Steps to Treating Concussion
What Other People Just Like You Are Saying About RecoverRx in Oakbrook Terrace, IL
"Dr Ariel is fabulous to work with! I saw her postpartum for 2 pregnancies, she listened to all my concerns and was able to provide so many resources to get my pelvic health back in tip top shape. She tailored specific workouts and regiments for my skill level, challenged me, provided endless amounts of information and education and tools to help me at home. She took her time didn't rush the appointments, was prompt with scheduling and returning calls/emails. Dr Ariel has a wonderful demeanor, professional, caring, knowledgeable and a wonderful personality. Wish I would have seen her prior to pregnancy! I highly recommend seeing her for her services and I tell all my friends to go see her!"
"Luke did a fabulous job helping me rehab my rotator shoulder injury! He was so flexible on schedule with my work and travel and really exceeding all my expectations on the PT I got. I have had other issues like a knee repair procedure and had to live with middle of the day scheduling and standard canned approaches. Luke took the time with he and gave me the customized exercises I needed, worked with me on my lifting form to avoid future injuries, and did a variety of dry needle and other manipulation therapies that were very effective. I am back lifting and am really pleased with my progress! My knee had a short-term aggravation that he solved too during my other PT work which avoided more appointments and time challenges. I whole heartedly recommend Luke and his clinic for PT! Thank you so much, Luke! Great Work!"
"Dr. David Bokermann was amazing to work with. I was referred to RecoverRX by a close friend because I was having a lot of shoulder pain. At one point I was having trouble just being able to put on deodorant because the pain was so bad. I though for sure that I was going to need to have surgery. I just figured I was getting old and all of the abuse that I put my arm through in my youth was catching up to me. Dr. David explained that I wasn't going to need surgery and that what I had was a muscle imbalance. I signed up for 10 sessions with him and I am happy to say that I am pain free again. I would highly recommend them to anyone."
Want To Get Relief Faster?
Choose which option works best for you